bold colors + geometric shapes form art library in ganda castle
Ganda castle in Italy renovates its interior as an Art Library
Designer Martin Feiersinger repurposes the spaces along Castello Ganda's outer ring wall in Appiano, Italyas an art library and event venue. Ganda Castle's medieval structure shaping four round towers and an outer ring wall is significantly transformed through the architect's developed design, refurbishing the former stables nestled in the southwest segment of the outer ring wall, and converting them into an art venue. All the furniture items were custom-made by the architect.
The loggia with its three renovated columns leads to the 'keyhole door', through which peeks the reconstructed 'Red Bar' area. The bottle-green glazed cutout in the gate is reminiscent of an oversized keyhole and alludes to the door in the gate. The red-tiled bar and the mirror chandelier are visible even before entering inside the volume. The polished lamp shapes a 'disc dodecahedron' pointing to the designer's interest in geometry.

the turquoise 'Sisters' Seat' serves as a chair or a climbing step for the bookshelf | all images by Werner Feiersinger
geometric shapes + vibrant colors adorn the library hall
The reconstruction was guided through the book 'Divina Proportione' by Luca Pacioli, published in Venice in 1509, about the time the castle's ring wall was built. The book includes Leonardo da Vinci's illustrations of Platonic solids, from which the interior design drew influence. 'In the reconstruction, I devised a strategy of interventions to the building fabric that was to remain as invisible as possible. In furnishing the library, on the other hand, I employed bold colors and shapes and tried to create a tapestry of interwoven references, ranging from early printed works to contemporary art', shares the Austrian architect.
The interior configuration consists of massive arched bookcases and semi-circular tables. Strung together, the furnishings can be combined shaping various geometric formations. The hexagonal bar chandeliers suspended in the barrel vault act as technical counterparts to the mirror chandelier, while the 'green Georgines' introduce the ellipse to the geometric cast of characters. Red multi-legged 'jellyfish stools' are featured all over the library hall, alongside the turquoise 'Sisters' Seat'.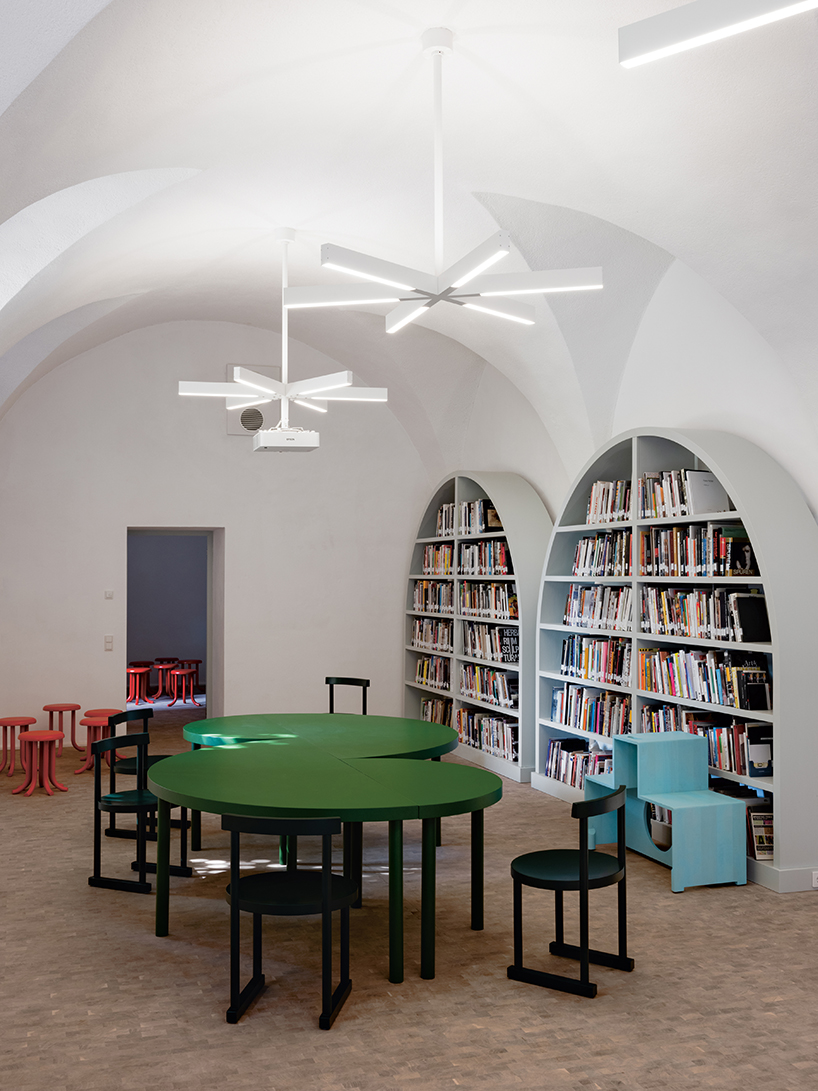 the library hall hosts arched bookcases, semi-circular tables, hexagonal bar chandeliers, and red 'jellyfish stools'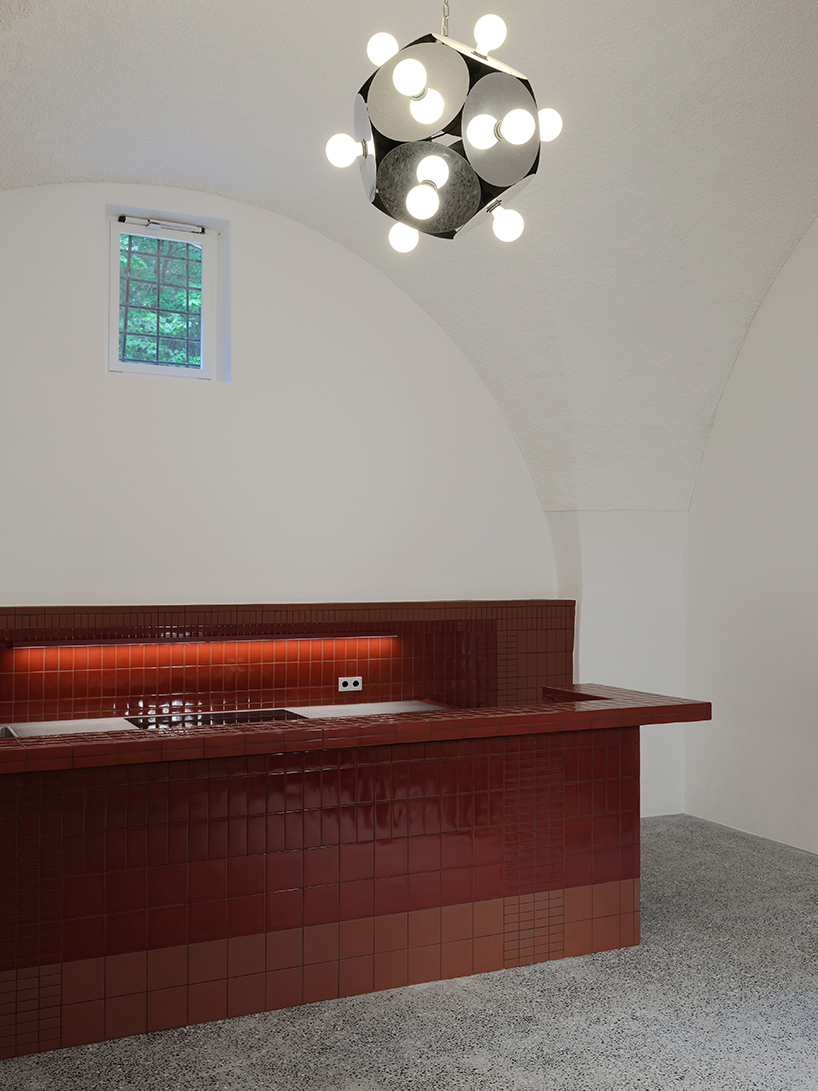 the red-tiled bar lights up by the mirror chandelier, a dodecahedron lamp consisting of 12 circular discs