University set to open book on library overhaul after ex-boss's $1M donation
Article content
King's University College faculty and students will celebrate the life of a longtime chief librarian who donated $1 million to fund a more accessible and modern library at a grand opening Friday.
Article content
The space on the first floor of the G. Emmett Cardinal Carter Library has been extensively renovated with Elizabeth Russell's donation, one of the largest in the college's history.
Article content
"The themes are accessibility and modernization," said Adrienne Co-Dyre, director of libraries at King's. "When you look around, it's bright, it's inviting and accessible, and it gives you options so you can come and use the space in a way that works best for you."
The Elizabeth Russell Achievement Center offers students, faculty and staff 76 study stations, 24 reading chairs and a dozen computer workstations, as well as a new meeting room.
Work, completed in September, also includes the installation of a new front desk and modifications to make it barrier-free. As well, new sound-proof study pods have been installed.
Article content
"Students can go in and study silently on their own or with groups and work together," Co-Dyre said. "It's great for things like sound recording, presentations and podcasts.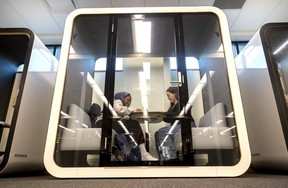 The $1-million donation from Russell, who retired in 1993 and died in 2013, is touted as one of the largest individual gifts in the college's history.
The open house runs from noon to 2 pm, with remarks from King's president David Malloy and Co-Dyre, as well as Linda Whidden, an associate librarian who worked with Russell, at 12:30 pm
Malloy said he was grateful for Russell's leadership and "honored to see her positive impact on the community will continue."
"Ms. Russell has demonstrated, through this generous gift from her estate, her lifelong belief in being a responsible guardian of education," Malloy said. "Little did she know the future needs of our students and the technological supports that would be necessary to further their education and help them flourish."
---
IF YOU GO
What: Open house for new Elizabeth Russell Achievement Center in the G. Emmett Cardinal Carter Library at King's University College
When: Friday, noon to 2 pm
Where: Library main floor, 266 Epworth Ave.
Parking: Lot 1 on north side of Epworth
King's launches memorial fund following the deaths of two students

King's University College sets $1M fund for in-house research projects