Book and drink pairings offer unique gift-giving opportunities
Granville Island indie bookshop Upstart & Crow rings in the holidays with a pair of unique events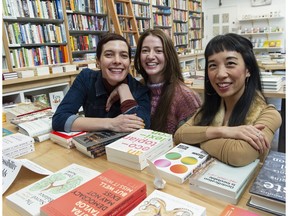 Reviews and recommendations are unbiased and products are independently selected. Postmedia may earn an affiliate commission from purchases made through links on this page.
Article content
Do you have a single malt scotch drinker in your life that loves a good book?
Article content
Are you a single malt scotch drinker who likes a good book?
Article content
Either or both, an interesting evening out at a Granville Island bookshop could help you add a bespoke touch to your Christmas shopping or just treat yourself before the season hits full swing.
On Dec. 2 and 3 from 6-8 pm indie bookshop Upstart & Crow is hosting Top Shelf, two evenings of cocktail and reading pairings hosted by book sommeliers. Along with Provincial Spirits the shop is enlisting the help of a group of creatives and huge book lovers called Friend Public Library. Group members Megan Lau, Michelle Cyca and Lizzy Karp, along with Upstart staff will be on hand to help you match your favorite drink with a great read.
"We're three friends connected by a love for great writing, passing around books and regular use of the library," said Karp via email.
Article content
Upstart & Crow's co-founder Zoe Grams says those taking part in Top Shelf can expect an evening of relaxed, sophisticated fun.
"Book sommeliers will be on hand to make recommendations for holiday shopping, offer whimsical ideas for book and cocktail pairings, and generally talk about our favorite things — books." said Grams.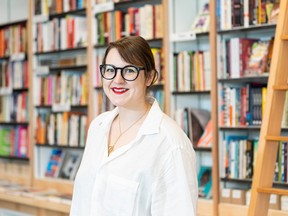 So how do this book sommeliers discern the connection between literature and libations?
According to Cyca a cocktail has "a few key components that resonate with the elements of a good book."
"Base spirit: gins are herbaceous and bright (resonating with natural settings and bucolic adventures), vodka is crisp and cool (ideal for austere, minimalist prose or an ironic, detached narrator), whiskey is rich and contemplative (for those deep, immersive reads), room is adventurous and bold," said Cyca via email. "Here, genre and plot can guide you."
Article content
And don't forget the modifiers: mixology term for things you add to the booze. Those extras inform as well.
"Here you can think about the tone of your reading, and the voice of your narrator: are they wry, vulnerable, unreliable, frustrating, mesmerizing? Are there smells or flavors that bring the setting alive?" added Cyca.
Finally the garnish can be a bit of a giveaway as Cyca says it delivers the top notes to the drink and the book.
"What leaps out at you on the page and sets this book apart from others in the same genre or oeuvre?" said Cyca. "Is it suffused with a sense of humor? A maraschino cherry has the perfect amount of kitsch. Is the prose refined and illuminating? A bright slice of lime might work."
Another factor in the sommelier's pairing plan is the potency of your drink of choice.
Article content
"Are you consuming something strong or something easy to sip? Some books and cocktails demand focus and pacing — like a Negroni, a Manhattan or a classic martini," said Cyca. "Others, like the kind you might enjoy on vacation, go down easy: a citrusy Paloma, a deceptively strong daiquiri. It's kind of like cultivating a very specific synesthesia. Does witty dialogue feel effervescent to you, like a champagne cocktail?"
Further helping to make your Christmas gift giving a local and unique experience Upstart & Crow is offering its Literary Post Boxes gift-giving plan.
Housed in the shop are two beautiful banks of 20th-century mailboxes — apparently their original home was a university dorm.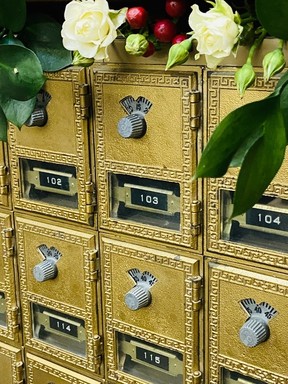 Prior to Christmas, the folks at the shop will stuff each post box with Upstart & Crow gift cards, products like teas, bath salts and chocolates, tote bags, poems, and other literary surprises from local shops, writers, makers, and Canadian publishers .
Article content
Upstart & Crow will personalize the boxes based
on notes from the gift giver.
Customers can purchase a box for $150 or $250 (contents are equal or more in value) the recipient gets their own secret code that opens one of the boxes.
For the indie bookstore doing special events and offering curated shelves of books overseen by knowledgeable staff is the beauty and worth of these shops. Your dollar keeps them alive.
"The holidays are a crucial time for independent bookstores," said Grams. "Finding new ways of sharing ideas and good books with people is not only one of our favorite things to do, but it's also essential for business — especially before the quiet stretches of the new year."