Truth, justice and the activist way: 5+ books to inspire young crusaders
Books can help show kids — and their parents — that activism comes in as many shades as there are crayons in the box.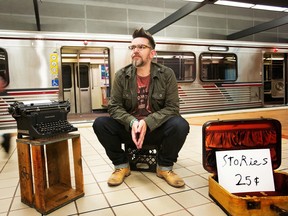 Article content
The day the crayons quit, poor Duncan got quite the surprise.
Article content
As the child was preparing to color a school assignment, he found his crayons had left a series of notes with demands, complaints and disputes: Red and gray are clearly overworked. Beige is seeking equality with brown. Yellow and orange are fighting. Peach is embarrassed because her wrapping has been peeled off. White feels completely unseen. Who knew crayons had it so hard?
Article content
The Day the Crayons Quit, written by Drew Daywalt and illustrated by Oliver Jeffers, is about speaking up for yourself and for friends, about social norms and identity and caring for others. It can also be read as an early guide to labor activism, as young Duncan has to find a way to keep his crayons happy but also get his homework done.
Storybooks and novels are one of the best ways to illustrate activism to children. They can help show youth — and their parents — that activism comes in as many shades as there are crayons in the box. Here, with help from the folks at Common Sense Media, are some age-appropriate books to introduce children to championing a cause.
Article content
Ages 3-5: Change Sings: A Children's Anthem
Tolerance and courage have never been so poetic. Change is inside all of us, the story says, and as the world changes, children are at the forefront. The bright and lyrical book references songs and chants and roars at the "hills of histories." It is written by Amanda Gorman and illustrated by Loren Long.
Ages 5-7: What Can a Citizen Do?
Dave Eggers, the author of A Heartbreaking Work of Staggering Genius, teams up with illustrator Shawn Harris to talk about good citizenship, from small things like helping a friend to huge things like changing laws: "A citizen's not what you are — a citizen is what you do."
Ages 8-9: Strange Birds: A Field Guide to Ruffling Feathers
Four unique girls create their own Scout troop, an alternative to the troop in their little town that won't let go of its outdated traditions. Along the way there is mystery and mischief, animal rights, human rights and an introduction to the famous female activists who came before them. Written by Celia C. Pérez, the author of The First Rule of Punk.
Article content
Ages 10-12: Okoye to the People: A Black Panther Novel
Author Ibi Zoboi takes us into the Marvel comic-book world through the eyes of Wakanda's Okoye during her first trip to the US Okoye is a Dora Milaje warrior, but state-side she comes face to face with one of Earth's most sinister evils: gentrification .
Ages 13-18: The Silence That Binds Us
Author Joanna Ho understands that people must speak truth to power. This novel for young adults does not pull any punches, touching on themes of racism, suicide and parental expectations. Maybelline Chen is a Chinese-Taiwanese-American girl who turns to writing to address stereotypes, "yet the consequences of speaking out run much deeper than anyone could foresee. Who gets to tell our stories, and who gets silenced?"
The best way to show (rather than tell) children about community involvement is to be a role model. Most of these books — and hundreds of others — are available at locally owned bookshops.
Article content
Books for Kids: Blurring the line between animal and human

Books for Kids: Scares from under the bridge and under the ground