Who Is Beetle on 'The Masked Singer'? Costume Clue Might Have Given It Away
Beetle is one of the next costumes to take to the stage for the eighth season of The Masked Singer.
The October 26 episode of the Fox singing competition will be a Muppets-themed night, and will even feature the legendary Miss Piggy as a guest panelist alongside regulars Robin Thicke, Ken Jeong, Jenny McCarthy Wahlberg and Nicole Scherzinger.
New contestant Beetle will compete against the trio of the Lambs and the Queen of last week's "Andrew Lloyd Webber Night," Robo Girl.
Robo Girl returns to perform the second week in a row, thanks to a new format that only allows one contestant to advance to the next round each week.
While Beetle's identity is still unknown, The Masked Singer viewers think they have already figured it out.
Newsweek has everything you need to know about who fans believe Beetle is on The Masked Singer.
Who Is Beetle on 'The Masked Singer'?
The Masked Singer fans have a suspicion that Beetle's costume hinted at the famous face behind the mask.
The costume features a ladybug with four arms, a gray pinstripe suit, and a mop-top haircut.
The look is, of course, very similar to that of the Beatles, leading fans to wonder if Beetle could be one of the two surviving members of the iconic rock group — Ringo Starr or Paul McCartney — behind the costume.
Additionally, The Masked Singer shared on the show's official Instagram account that Beetle's Mask-Ray clue is a leaf, with a caption that read: "This contestant is bug in a million."
Many fans in the comment section have guessed that this clue could mean that Beetle is 1970s teen idol Leif Garrett.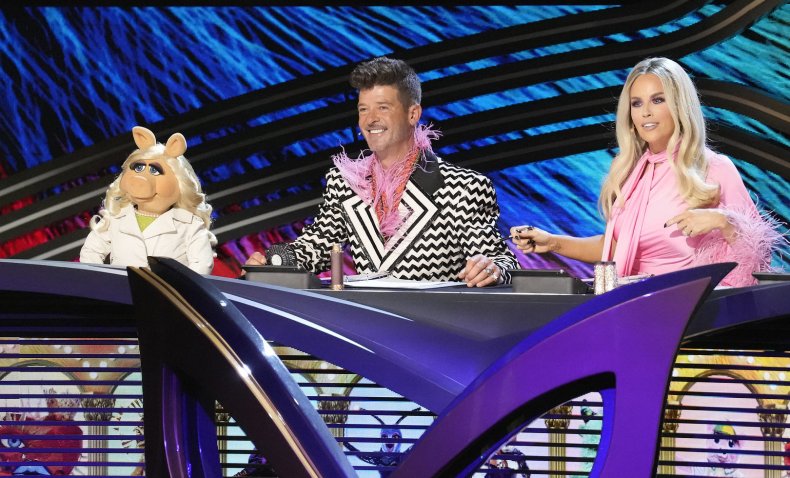 Ahead of Muppets night, The Masked Singer fans have also speculated about the identity of Beetle's competitor Robo Girl, with many believing that she is actress and singer Kat Graham.
In the package, Robo Girl called her fanbase "magical" and said they gave her "supernatural confidence," which viewers believe is a hint to Graham playing witch Bonnie Bennett in the CW drama The Vampire Diaries.
Some also believe the surfboard in her clue package is a nod to the Teen Choice Award that Graham won for the role.
Other viewers, however, are convinced Robo Girl is singer Bebe Rexha due to a clue of two "B" music notes.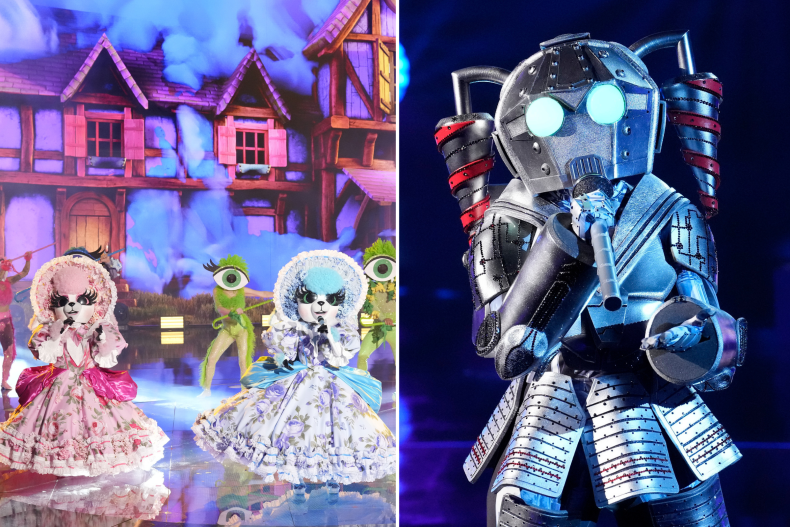 So far on The Masked Singer Season 8, celebs William Shatner, Montell Jordan, Chris Kirkpatrick, Eric Idle, Jeff Dunham, Daymond John, and The Brady Bunch stars Mike Lookinland, Christopher Knight and Barry Williams have been revealed as the voices behind the masks, as well as Mario Cantone and Gloria Gaynor.
Meanwhile, the character Harp has managed to remain unmasked so far, though fans are convinced she is Glee actress Amber Riley.
The Masked Singer airs Wednesday nights at 8 pm ET on Fox.