Western Homecoming: excited students, worried officials, nervous neighbors
A London nightclub owner says he struggled to get insurance for an outdoor event Saturday and warned downtown doesn't have enough bars and clubs for the revellers celebrating Western University's first full-blown homecoming since the pandemic struck.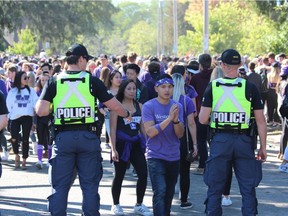 Article content
A London nightclub owner says he struggled to get insurance for an outdoor event Saturday and warned downtown doesn't have enough bars and clubs for the revellers celebrating Western University's first full-blown homecoming since the pandemic struck.
Article content
One city councilor, meanwhile, has been busy fielding phone calls from worried constituents and London police have called in reinforcements for the annual bash that has left taxpayers on the hook for six-figure policing bills in the past.
Article content
John Scott-Pearse, owner of The Belfort, spent two weeks frantically searching for an insurance company to provide coverage for an outdoor event at his Piccadilly Street venue on Saturday.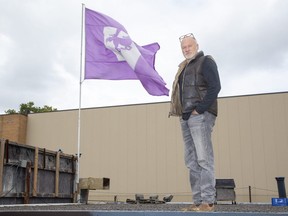 "They wouldn't touch a nighttime event, they wouldn't touch anything for underage students. We can't throw concerts or anything like that, "Scott-Pearse said of insurers' reluctance to provide coverage.
Scott-Pearse, who has owned and operated several bars over the years, said he eventually found a company in British Columbia that would insure a 19-plus, daytime event.
Article content
The Belfort became the go-to spot on St. Patrick's Day earlier this year, the last large-scale party in Londonwhen the streets around Western and downtown became noticeably quieter during the afternoon when thousands of revellers made their way to the venue on the west end of Piccadilly for an outdoor event.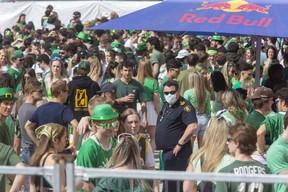 Scott-Pearse predicted the city will be left with a hefty policing bill from Saturday, just like past years on homecoming weekend.
"Londoners say, 'Well, we've got to crack down on these kids,' but there's no cracking down on them. You've got to offer them an alternative, "he said, referring to bars and nightclubs. "Basically, all the alternatives are drying up."
A homecoming task force – made up of city officials, police, paramedics, the London fire department, the Middlesex-London Health Unit, Western University and Fanshawe College – has been holding regular meetings to prepare for Saturday.
Article content
Officers from the York Region and Hamilton police will assist London police, spokesperson Const Sandasha Bough said.
"It's basically to make sure that we can provide service to the rest of the city," Bough said of the request for extra officers, adding police will have a beefed-up presence around Western's campus.
In past years, crowds of up to 20,000 have packed Broughdale Avenue, a dead-end street near Western that's traditionally the epicenter of an unsanctioned bash, making it difficult for emergency crews to respond to calls in the area.
"We have operational plans in place with respect to large gatherings," Bough said. "We'll be monitoring events and responding accordingly."
In an unsuccessful bid to quash rowdy student parties in 2016, Western officials moved homecoming to mid-October, hoping cooler weather and ongoing exams would deter students from partying. But the move backfired when students started their own tradition on the original weekend, known as fake homecoming or FoCo, that drew revellers from across Ontario.
Article content
Last year, Western moved the three-day homecoming celebration back to September, though most of the events were held virtually because of the pandemic.
With most public-health restrictions now lifted and Western back to in-person learning, there are fears this weekend's homecoming could see a record-setting crowd.
"I've been getting a lot of nervous phone calls," said Coun. Mariam Hamou, whose Ward 6 encompasses Western's student neighborhoods. "They are worried about the garbage and the noise."
Hamou, an Old North resident who has seen first-hand how homecoming transforms the neighborhood, said safety of the students is the top priority.
"These kids are coming to London to learn. Their parents are sending them to us, so we should send them home safely. But that doesn't mean there isn't a responsibility on the students to keep themselves safe as well, "she said.
Article content
Officials toughen party limits, fines ahead of Homecoming, FoCo

Online videos show wild late-night street parties amid Homecoming
Western's vice-provost John Doerksen said students are responsible for upholding the university's community values ​​on the weekend that includes a homecoming football game Saturday and a reading Sunday by Canadian hip hop artist Maestro Fresh Wes and a Western grad with whom he wrote a children's book.
"We are encouraging students to be safe and take care of themselves, their friends and their community. The health and safety of our campus and community is a shared responsibility and we all need to do our part, "Doerksen said in a statement.
The problem of rowdy homecoming parties isn't unique to London. Other cities with large student populations, such as Kingston, Kitchener-Waterloo and Hamilton, have introduced new bylaws and other measures to snuff out out-of-control gatherings.
McMaster University in Hamilton isn't holding a varsity football game or any homecoming events to dissuade large gatherings. The city also introduced a new bylaw that targets "nuisance behaviours," such as public intoxication and excessive noise, with fines ranging from $ 500 to $ 25,000.
In Waterloo, fencing went up this week on a street near Wilfrid Laurier University ahead of anticipated weekend parties.