Our Yarning free book collection reflecting Aboriginal and Torres Strait Islander experiences for the next generation
When Nurrunga and Ngarrendjeri woman Julie Owens was learning to read, she never came across stories about Indigenous Australians.
"I had never seen a story about somebody from my culture doing the normal things that my family does," she said.
"Growing up I had no books that reflected my life, my culture, my country."
So, as an adult, Ms Owens set about changing that, teaming up with not-for-profit group Libraries for All to identify a collection of books that reflected Aboriginal and Torres Strait Islander experiences.
The resulting collection, named Our Yarning, is available online, with the books available to be downloaded for free through an app.
This week, organizers also took the library on the road to Canberra, where some of the books were read aloud to children at childcare centers in a bid to further engage children in the learning process.
Books aim to address higher illiteracy rate
The Our Yarning collection is currently made up of 160 books, with organizers hoping to grow that number to 500 by 2026, not only to allow Indigenous children to see their lives depicted on the page, but also in an effort to address higher rates of illiteracy among Aboriginal children.
According to government data from 2018, one in four Indigenous children in years 5, 7 and 9 are below national minimum standards in reading.
And the Libraries for All group says that is also a large part of why the books are currently only available in English, not traditional languages.
"Our focus … works to improve literacy attainment, at scale, with books and educational resources that are aligned to the national language of instruction," the not-for-profit said.
But, organizers said, over time, they "dream of a free digital library that encompasses many traditional languages".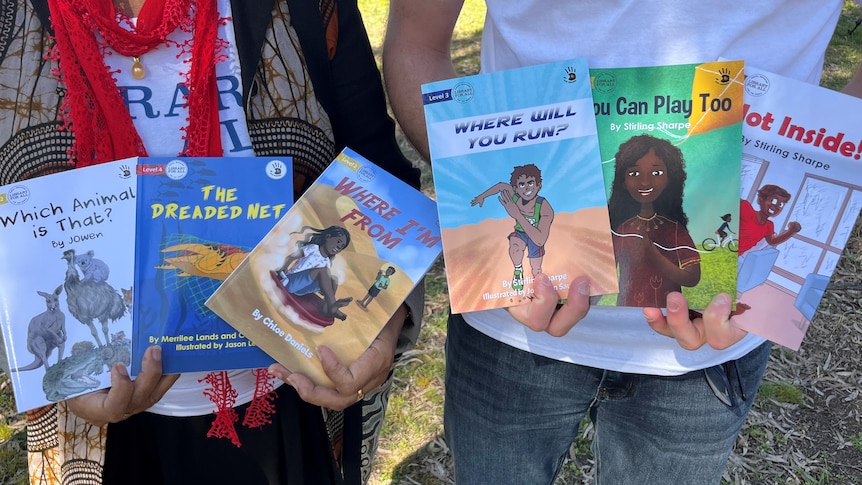 'Books that kids can see themselves in, or dream of being in the future'
Awabakal man Stirling Sharpe volunteered his own time to write some of the stories for the Our Yarning collection.
He works alongside Ms Owens to help the initiative reach more people, and said he always dreamed of writing a children's book.
"Bit of a bucket list item for me just to write a children's book one day, and Library for All ran a workshop at the University of Canberra, a little over a year ago now… and since then, the rest is history, he said.
"I wrote a couple of manuscripts, they got accepted and I joined the Our Yarning team."
Mr Sharpe said the research was clear that children had better learning outcomes when they could see themselves in the storylines of books and could relate to characters.
"The whole concept of a mirror book or a window book — a book where you can see yourself or you can dream yourself being in that situation — is really important to engagement," he said.
"The evidence is there. So for us, it's really important that we get as many books that the kids can see themselves in, or dream of being in the future."
And Ms Owens said while the stories reflected Aboriginal and Torres Strait Islander experiences, they were for all children across Australia.
"The books are aimed at Aboriginal and Torres Strait Islander children, but when you think about it – they're books for all kids," she said.
"And especially those children coming from other countries that want to learn about Australia."
But Ms Owens said she still hoped the biggest impact would be closer to home — children who, unlike in her experience, would now have the opportunity to see themselves reflected in the world of literature.
"This is an opportunity for my grandchildren to see themselves in the books," she said.
.