Children's Book Fair, Garden Fair and the South Side Science Festival kick off fall season | Evening Digest
The past weekend, thousands of Hyde Parker's perused book stalls, tables of tulips and science-related booths, ushering out the last days of summer. From returning events like the Children's Book Fair and Fall Garden Fair to the inaugural South Side Science Festival, here's the weekend in review.
The Children's Book Fair
"This is our first year back in sort of full force," said Anna Sawyer, one of the principal organizers of Sunday's Children's Book Fair of Hyde Park.
The theme of this year's Children's Book Fair was banned books, and it kicked off the American Library Association's Banned Books Week by celebrating commonly banned books like "Maus" by Art Spiegelman.
Still smaller than pre-pandemic fairs, this year's organizers brought back Marsha's Music, Hyde Park School of Dance, South Side Suzuki and In The Spirit Storytellers. Local State Senator Robert Peters (D-13th) read "Where the Wild Things Are" and Mother Goose and the Kenwood Academy marching band paraded down 57th Street.
"Rebecca Janowitz started (the book fair) 35 years ago along with a number of other book lovers," said Sawyer. "So, we're happy to have live performances back and see all the kiddos enjoying (the event)."
The Fall Garden Fair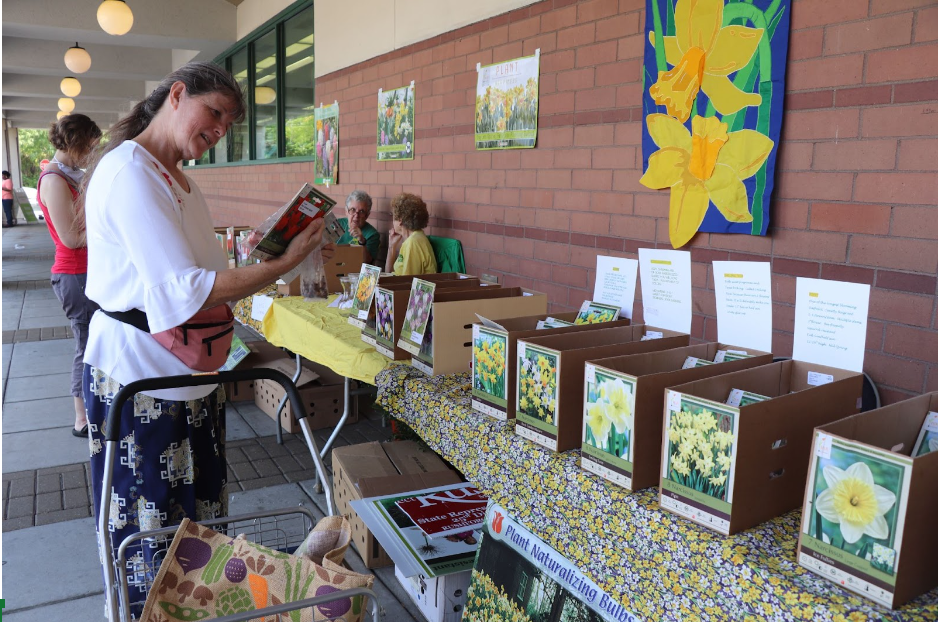 Chicago's oldest community garden sale, the Fall Garden Fair, returned after a pandemic break and was met with an eager crowd of early risers. This year, organizers set up on tables in the center courtyard of the Hyde Park Shopping Center, 5450 S. Lake Park Ave., and lined the stretch of wall in front of the Walgreens, 1554 E. 55th St.
"It was packed with people, they were buying enthusiastically, which is what we like; lots of questions, which we enjoy," said veteran organizer George Rumsey.
The sale began at 9 am; they sold out of mums by 11:30 am but still had bulbs into the afternoon.
Joy Rosner, who orders the bulbs, estimated that they had around 8,600 mums at the start of the day.
"So many of our long-term growers have gone out of business or are selling wholesale, so we had a very hard time getting the number of mums we usually have," said Rumsey. He added that they had less than half of previous years' amount.
Garden Fair patron Erin Flynn said of her purchase, "We moved from the middle of Hyde Park into a house, so now I gave a front yard and a back yard… and I get to plant bulbs for the first time for our house for next running."
Flynn chose daffodils, "because it says they'll come back every year," and tulips, because they remind her of her grandfather.
The South Side Science Festival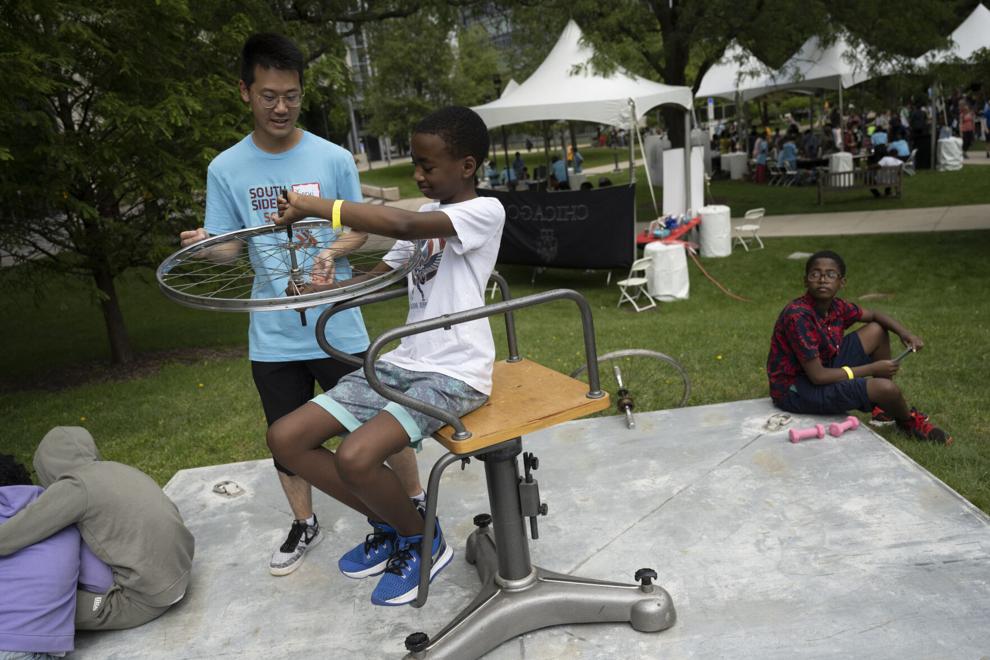 In its inaugural year, the South Side Science Festival kicked off on the Science Quad at the University of Chicago, with booths and activities showcasing the fascinating world of science.
The science fair was organized by the university's Biological Sciences and Physical Sciences Divisions and its Pritzker School of Engineering. By the end of the day, more than 1,500 attendees had come through the quad.
"We are here on a field trip with our kids," said UChicago Charter School-Woodlawn physical education and wellness teacher Eric White Jr., surveying the quad to keep track of a dozen seventh and eighth-graders.
"We are learning a lot. We learned about animal skulls over there; they've got the liquid ice cream, we went to a battery presentation. So, a lot going on," White added.
Attendees were also able to listen to a Field Museum ornithologist discuss the Red Headed Woodpecker and learn about angular momentum from a U. of C. Physics graduate student, among other booths.
Tyreese Petty, an eighth grade student of White's said of his experience, "I liked everything here today. It was a very cool experience. I learned a lot today, more than I learned in school. So it's been a blessing."
.