Calgary Flames re-sign Oliver Kylington to two-year, $5M deal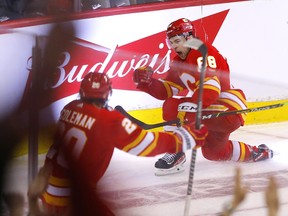 Article content
Brad Treliving didn't leave his office at the Saddledome until past 9 pm Tuesday, but boy did he make a dent in his off-season to-do list.
Article content
Before flicking off the lights and heading home for the evening, the Calgary Flames' general manager had finalized new contracts for both Andrew Mangiapane and Oliver Kylington.
Mangiapane, who popped for 35 goals this past winter and is now a frontrunner for duties on the Flames' new-look first line, scribbled his signature on a three-year deal worth US$5.8 million per season.
Kylington, one of the NHL's best breakthrough stories in 2021-22, also scored a nice raise. The smooth-skating defenseman inked a two-year extension with an annual cap hit of US$2.5 million.
As restricted free agents, both players had upcoming arbitration hearings. Not anymore.
"They're homegrown guys that have continued to grow each year and grow their games and become important players, so it's good to get 'em signed and good to get that behind them and they can focus on getting ready for the year," Treliving said at the tail end of this productive — and pricey — day.
Article content
"Both of these guys, they've gone up through the system — they've been drafted, they've developed, they've played through the American Hockey League system and worked with our development staff and, for the most part, they 've been in the NHL for a few years. As a young guy, you're trying to make the team and then you're trying to stay in the league and now you're really trying to establish yourself as a really good player in the league. That's what both are doing now. Oliver took a huge step last year, and Mangy goes out and scores 35 and he takes on a bigger role. And ultimately, at the end of the day, they were part of a real good team. That's what it is all about is taking a bigger bite of the apple and being part of a good team, and both of them want to take a bigger step.
Article content
"I still think there's more growth for both these players to take on more and be even bigger parts of the team moving forward. This is the next step. You get contracts done and they both got a good raise from where they were before, and deservedly so, and now you get ready for the season."
Mangiapane has blossomed into a net-filling fan favorite at the Saddledome. The 26-year-old winger just piled up 55 points as a second-line sparkplug — his stat-sheet included career-highs in goals (35), assists (20) and game-winners (8) — and will now be counted on as one of Calgary's go-to guys after the departures of both Johnny Gaudreau and Matthew Tkachuk. The left-hander will likely get a shot at developing some chemistry with Jonathan Huberdeau and Elias Lindholm on the top trio and could also become a fixture on the first power-play unit.
Article content
Mangiapane's arbitration faceoff was slated for Friday, so both sides will be relieved to get a deal done before that sometimes-testy process.
"Hey, you score 35 in the league, that's not easy to do," Treliving said of Mangiapane, a sixth-round steal in the 2015 NHL Draft. "And it's not all just based on goals. He set a standard of play more than anything else, and he has to continue on that standard of play and the goals will come.
"He doesn't need to change his game. He just needs to continue to do what he does, and the other stuff will take care of itself. But certainly, I think he looks at it and says, 'I had a good year last year, but there's still more to give,' and he's looking forward to doing that."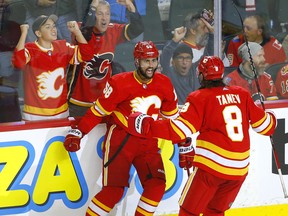 After spending most of the previous season as a spare part or taxi squad, Kylington cemented his status as a full-timer in 2021-22. He became a staple in Calgary's top-four, typically skating alongside Chris Tanev.
Article content
Kylington, who recently turned 25, posted career-bests in every category — 73 appearances, nine goals, 31 points, a plus-34 rating and an average of 18:10 of ice time per night.
"Really, over the last three years, his checking game and his ability to defend and his play away from the puck has grown so much," Treliving said of Kylington, a second-round selection in 2015. "There are still areas to continue to do that. He took such a step last year. Now, he's a bit of a known commodity, right? So he's not going to surprise people. The areas for him (to improve) are to continue to be a good player away from the puck. His natural ability takes over with the puck. He skates so well. He can move the puck. He has the ability to jump into the play and be a second wave of offense. But you have to pick your spots there. You have to be cleaner with the puck. The one thing with Oliver that he works on is those big burps, sort of smoothing out those.
Article content
"But he became a really relied on guy and in today's game, with the way he can skate, he can close down plays. He has a good gap. He's able to defend with his feet. He'll physically continue to get stronger. And I think just more reps and more experience… He went through a couple playoff series for the first time for him last year. He's a year older. He has the experiences he gained last year, and I think he's going to take another step this year."
SOMETHING TO CHEW ON
Treliving made a quick trip to Montreal on the holiday Monday, and he didn't travel all that way just because he was craving a smoked meat sandwich.
There was something more important on the menu — a meet-and-greet over dinner with Jonathan Huberdeau, the star left-winger who also arrived from the Panthers in the monster swap that landed Tkachuk in the Sunshine State.
Article content
The 29-year-old Huberdeau was the NHL's top playmaker this past winter, leading the loop with 85 assists. He also buried 30 goals, finishing even with Gaudreau for second in the overall scoring race.
Huberdeau is slated to be an unrestricted free agent next July, but Monday's meal was simply a first step for Treliving in introducing himself and the organization and starting to sell the setup whiz on a long-term stay in Calgary.
"We just made a trade for the guy and to me, you have to get to know each other," Treliving explained. "He doesn't know who I am and I'd never met Jonathan before, so it just gives us a chance to learn a little bit about each other and get to know each other and build a relationship and give him a little insight into what we're thinking about the team.
Article content
"You're talking about a player who is a top player in the league. He's been in one place for his entire career. Like anybody, it's a shock when (the trade) first happens, so you want to give him a few days to let him catch his breath and decompress a little bit and take it all in, and then I thought it was important to get out there and get in front of him and visit with him and answer any questions he has, rather than talking on the phone. It was just a get-to-know-ya, and that's what was important. It was important to him. It was important to me. I was really impressed with him, a real sharp guy. Obviously, he's experienced about the league. He's been in the league a long time. He's had a lot of success in the league. He's excited about the opportunity coming up. He's excited about the change. To me, you just have to build those relationships. That's what that was about."
Article content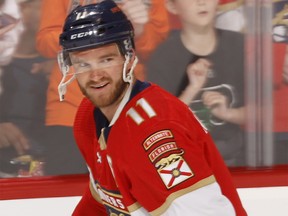 GIDDY-UP!
The Flames-of-the-future will go by a throwback name. The organization announced Tuesday that its American Hockey League affiliate, relocating to the Saddledome after a stint in Stockton, Calif., will be known as the Calgary Wranglers.
That will certainly be a popular choice among longtime local hockey fans, who will remember a Western Hockey League squad that was branded as the Wranglers from 1977-87.
Kelly Kisio, Dana Murzyn and Mike Vernon were all Wranglers before reaching the NHL. Guys like Jakob Pelletier, Matthew Phillips and Dustin Wolf will now be aiming to carry on that tradition.
Wrangler's merchandise will soon be available at all CGY Team Stores and FanAttic locations.
ICE CHIPS: On a hectic day, the Flames also announced that forward prospect Martin Pospisil has inked a one-year, two-way contract with a cap hit of US$750,000 at the NHL level. The 22-year-old Pospisil totaled nine goals, 31 points and 101 penalty minutes in 56 appearances this past winter in Stockton, a tally that includes both regular-season and playoff outings.
Twitter: @WesGilbertson