Core Scientific (CORZ) Q4 Earnings: 3849% EBITDA Growth & Bitcoin Holdings Worth ~ $ 400M
Core Scientific FY 2021 Results
Last week, Core Scientific released results for FY 2021, along with the company's first annual report. Though the company was guiding significant growth, the finalized numbers were no less stunning. According to CEO Mike Levitt, Core Scientific set a record for most bitcoin mined in a year by a US publicly traded company.
You can find the slide deck here, the call here, a transcript of the call here, the press release here, and the annual report here. This constitutes the sources for this article, unless otherwise noted.
Core Scientific followed last week's earnings release by announcing that it mined 1,143 bitcoins in March and held 8,497 bitcoins at months end. This equates to just short of $ 400M worth of bitcoin, using the price at the time of announcement.
| | | | |
| --- | --- | --- | --- |
| | 2021 | 2020 | % |
| Total Revenue | $ 544.5M | $ 60.3M | + 803% |
| Gross Profit | $ 238.9M | $ 9.4M | + 2.443% |
| Adj. EBITDA | $ 238.9M | $ 6.1M | + 3.849% |
| Gross Margin | 44% | 12% | + 267% |
| Net Income | $ 47.3M | – $ 12.2M | |
This is in addition to $ 132M in cash and restricted cash at the end of 2021. This does not include an additional $ 201M in proceeds from the company's SPAC merger.
The rising price of bitcoin added a tailwind to results. However, equipment sales were the surprise in the details. Core Scientific sold over $ 248M worth of mining equipment.
Although we've been developing large scale blockchain infrastructure for over five years now, we believe that we are still in the early days of our industry's development.

-CEO Mike Levitt, FY21 Earnings Call
Another surprise was R&D expenses of nearly $ 7.7M which, exceeded sales and marketing expenses by close to 2x. Core Scientific alluded to ambitions well beyond simply mining bitcoin, both on the call and in its annual report.
Moving to cash flows, Core Scientific had a negative operational cash flow of $ 56M. One way to look at it would be to hypothesize that Core Scientific spent $ 56M to acquire 5,769 bitcoins worth $ 271M at the time of writing. This is, of course, a gross oversimplification because some of the operating expense was related to hosting, and capital expenditures totaled $ 365M.
Yet, thinking about it this way captures the essence: At scale, the marginal cost of mining bitcoin is low, once you are over the capex hurdle. This is important to consider as we look ahead.
Expectations for FY 2022
Look, if there continues to be a glut of equipment sitting on loading docks every day, that's burning a hole in somebody's locket. And so, it's a balance of capital formation and cost, but on the return side both mining and self-mining look pretty good going forward this year.

-CEO Mike Levitt, FY21 Earnings Call
One pertinent observation is that the company suggested that it will need to raise additional capital to fund continued growth. This is particularly interesting because it suggests the company does not plan to sell the bitcoins it is accumulating. In the Q&A, CEO Mike Levitt said that the company is looking into the debt markets, implying that traditional asset-backed lenders are warming to the business model. He also said that the company would consider bitcoin-related financing alternatives.
On the mind of many investors have been power costs, which were also discussed in the Q&A. The company anticipates that costs will rise in "the range, roughly speaking, in the plus or minus 15% area, more or less." This is far less than some have speculated.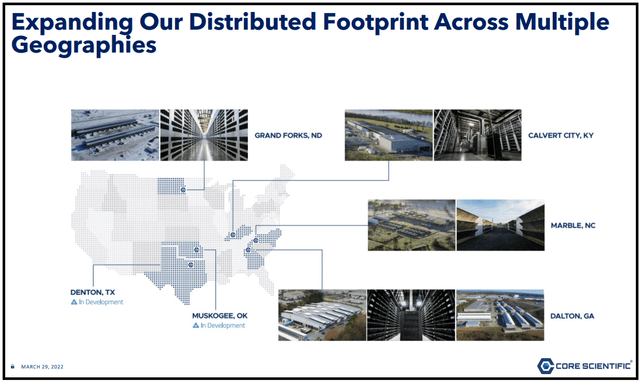 On expansion and guidance, Core Scientific guided a hashrate of 40 to 42 EH / s with power of 1,200 to 1,300 MW. Compare this to 457MW and 13.5 EH / s at year-end.
With planned expansions of 300 MW in Texas and 500 MW in Oklahoma, we can deduce that this guidance is strictly based on current announcements and does not account for the possibility of future expansion. Core Scientific could either strike new agreements that expand its plans, or it could hold steady and let the profitability soar, as the marginal costs are low.
It's worth noting that at the end of FY 2021, the company had already contracted "84%" of its FY 2022 goal for hardware procurement, and expects that "approximately 30%" of infrastructure development plans will be completed by "by the end of the second quarter ". The company says it expects equipment sales will be "less significant in the future", as the company will put a greater emphasis on highly profitable self-hosting / self-mining.
Conclusion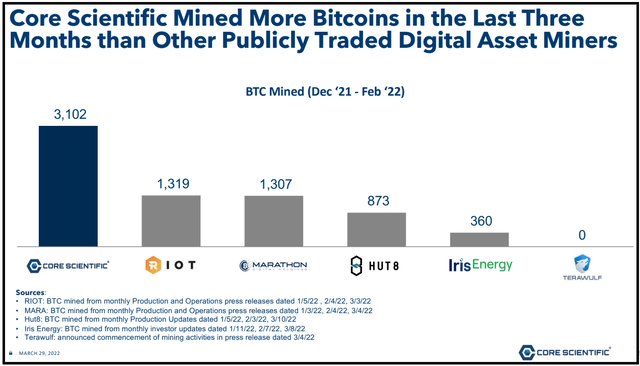 In our view, Core Scientific's stealthy rise to the summit of the industry has put it at a significant discount to better-known competitors. According to data provided by S&P, Riot Blockchain (RIOT) and Marathon Digital Holdings (MARA) are valued at $ 2.4B and $ 2.9B, respectively. Core Scientific is valued at $ 2.7B despite the fact that it is arguably larger than Riot and Marathon combined. Terawulf (WULF) is valued at $ 845M despite having only recently begun operations.
In addition to our self-mining and hosting businesses, we also have a team of 30 blockchain and financial technology experts who are developing innovative products at the intersection of blockchain finance and AI. While its financial impact is not yet material, we engage in network services such as staking and keeping to determine what innovative products and services may lead to the expansion of the blockchain ecosystem and to new business opportunities.

-Core Scientific CEO Mike Levitt, FY21 Earnings Call
But it's more than just comparative valuations that matter. As North America's largest bitcoin mining operation, dwarfing over the size of its competitors, we believe that Core Scientific is poised to take industry leadership. It is important to note that Core Scientific was previously lead by the former COO of Microsoft, who attracted significant talent to the company. The current CEO is a veteran of Wall Street, having been Vice Chairman of Apollo Global Management and CEO of Kane Andersen Advisors.
In upcoming articles, we will speculate on what the future the industry might look like. There are a few clues buried in Core Scientific's annual report.